Archive for February, 2012

Chuckanut 50k is celebrating 20 years in 2012. The race is Saturday, March 17, and is poised to be the biggest 50k in the nation. Krissy Moehl has also been at the helm and race directing for 10 years. This is a very "dialed" race and has arguably the best field of any 50k in the nation. It's a NW classic. Bellingham is an awesome town to come visit and hang out for the weekend. This race has been filling up the past few years. Now that she's been allowed to open it up to more runners, there's no reason to ski it. Get on it folks, there's less than 350 spots left last I heard.
Registration at UltraSignUp.com. Giddyup!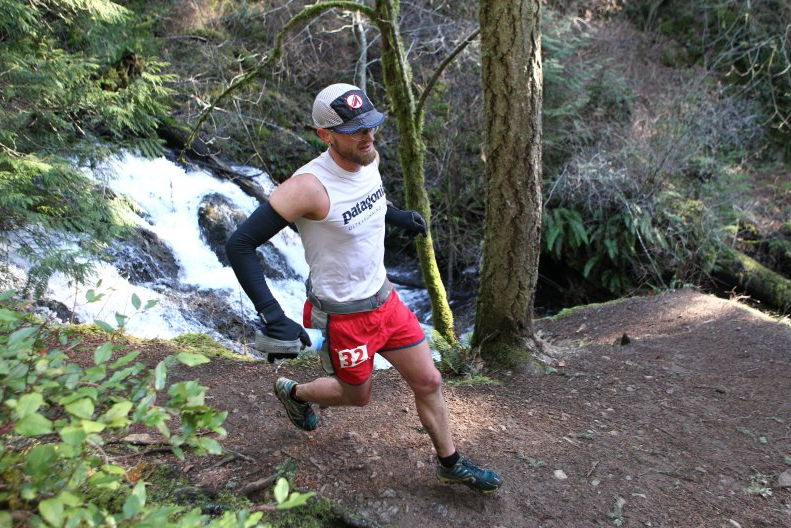 Photo Courtesy: Glenn Tachiyama
This was a quick power trip to Orcas solo. It was good to get back to James' race, it's a killer course. Hard, tons of climbing…7500 ft and a great scene. I took off Thursday night after my kids were in bed and crashed in the Gorge. Got up early Friday, hit Seattle at lunch and hung with my brother-in-law, Andrew before pushing on to Anacortes to catch the ferry to Orcas Island.
This year I opted to crash in my rig. After a good night's sleep, I got up, ate and did a short warm up before toeing the line. I knew going into this I was not in top form. After the broken rib and hand in November/December, I just hadn't put in the volume I normally have on my legs by this time. Add to the mix that I (and my whole family) got the flu on Monday (5 days prior) and I knew I was in for a challenging day, especially the latter miles.
The weather was just gorgeous this year. Clear, sunny and brisk at the start, but it warmed up quickly and by 10 miles in I was down to light gloves and sleeveless jersey. Nice. The course was in stellar shape and I went out a little hot given my fitness level, but oh well.
I did pay for that "oh well" around 25 or 26 miles when my wheels came off. I was in 5th and 1st masters, but Adam Hewey, another strong master's runner, came rolling up on me at 26ish closing strong like he always does. I immediately tried to suck on his heels for 100 meters or so, but couldn't match his pace. Just wasn't there. So, I just maintained the pace I was holding and hoped nobody else was bringing it home hard. I ended up staying in that position the rest of the race and rolling in for 6th place 17 minutes faster than last year in 4:55. Great race once again. James really knows how to put on a race. I highly recommend one of his races (rainshadowrunning.com).
Also, found out I got chosen in the Wasatch 100 lottery. So, September 100 is chosen. Giddyup.
Phew. It's been a busy 6 months since Leadville. Here's a recap of my last 6 months to catch up…
September
Ran Flagline 50k (USATF 50k National Trail Championship). I just turned 40 in August, so went into it gunning for the master's title and got it by just a few minutes. Battled Mark Lundblad and pulled it out by 2 minutes after rolling my ankle badly in the last mile and hobbling across the finish in 4:02. Good day.
October
Laid low, took some time off and let my ankle heal from Flagline. Took a family vacation to the Redwoods in Northern California. Was super bummed my ankle was mangled, as the trails there would be off the hook. Took another trip to see family in Seattle durning the month. Also was able to squeeze in some late season mountain biking before the snow started flying.
November
Had just started training again when I was had a bike wreck commuting to work. I was commuting to work on my bicycle early morning on Nov. 10 following traffic  (2 vehicles) in the roundabout, when a car did not yield entering the roundabout. I was one car length behind the SUV when the 2 vehicles in front of me came to a screeching halt to avoid hitting the person that did not yield (pulled in front of them). I crashed into the back of the SUV in front of me at 20 mph. My left hand hit first and broke plastic off the back of the SUV, jack-knifing my bike front end and slamming left ribs/shoulder into the back of the SUV. I broke my left hand and cracked a rib. The hand required surgery and 3 pins and a cast. While I was on the pavement, everyone in the line, drove off. Thankfully, 2 super cool fireman on their way to work pulled over and helped me.
December
Still dealing with broken hand and rib. Slowly able to start running again, after 5 weeks on stationery bike and treadmill. Nice to be back outside running.