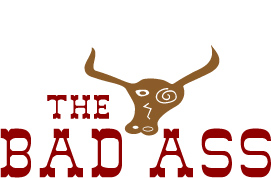 50k Fat Ass "RAVE" Run in Central Oregon
Location: TBD
This is a fun run to turn your post-holiday fat ass into a BAD ASS!

Photos (Left to Right): Special K enjoying the white stuff; Adorned in his post-holiday festive hat, The Colonel and Turk; Padre and Biendip climbing up Cinder Butte; Bronco Billy providing runners studded shoes prior to the start; Bronco Billy, Fatboy, and The Dude cruisin' in the early winter morning sunshine.

New Rave Format...can you hear the techno groove y'all?!
The Bad Ass is no longer in existence...well, at least in its previously known state. It will still happen but the location will change every year and move to a Rave format...that's right, you gots to be in the know to find out where it's goin' down. There is NO entry fee, NO sponsors, NO course markings, NO nothing. Well, okay...probably hot soup, hot drinks, hot fire and hot spandex (and maybe a map and an arrow or two). But, this is strictly a superfly, self-supported FUN RUN to allow everyone to get out, socialize and have a sweet winter long run in the high desert. Ask around town and you might come across someone who knows.
Distance Options
The Bad Ass 50k
31 miles. The big dog distance. Yep, we'll still have the 50k...no matter where or conditions. Course and elevation profile will depend on location.
BEST SUITED FOR: Those who have been training consistently already and are prepared to throw down a 50k training run. You have your priorities straight. You definitely aren't scared of snow, ice, or sleet and probably have a pair of running shoes with sheet metal screws already in them. Yep, you're a Bad Ass.
The Short Ass Something-or-Other
10-20 miles-ish. Yep, we'll still have a few shorter options for those scared (or not quite ready) to step up to Bad Ass stature. Distance options will vary depending on location, but should be in the 10-20 mile range.
BEST SUITED FOR: Those who have slacked over the holiday and only worked on expanding their ass and need a jump start. You've been procrastinating to begin training because "it's so cold and snowy in Central Oregon." After completion, your ass is still pretty big but it might not jiggle as much as before.